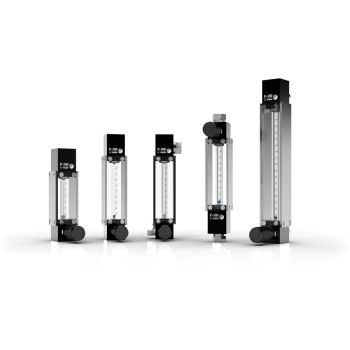 Variable Area Flowmeters for Gases with a wide Range of Options
Vogtlin's V-100 is a classical variable area flow meter for gases and liquids with a broad line-up, great flexibility and extensive options.
The instruments are highly modular and adaptable for almost any requirement.
Measuring Tubes in 3 Sizes
The flow meters are available with three different glass tube lengths.
Measuring ranges from 0.04 ln/h up to 5000 ln/h for Air @ 1.21 bara / 20°C
Maximum pressure: 20 bar (290 psi) / Maximum temperature: 100°C
Different Instrument Setups
In addition to standard rear ports, devices with lateral and vertical ports are available
Measuring Tube Scales
In addition to mm scales with flow rate table, glass tubes with direct reading or custom scales are available
Aluminium or Stainless Steel
The bodies are available in aluminium or stainless steel. Sealing materials FKM or EPDM
Tightly Closing Precision Control Valves
The devices are equipped with precise, hysteresis-free 15-way control valves. The valves are tightly closing.
Various Instruments Options
We offer a range of options for the flow meters:
Laboratory base
Limit contact (inductive)
Adaptation to customized gas line routing