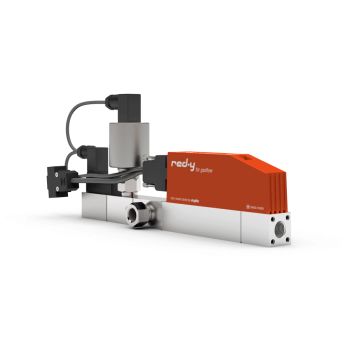 Optimize your Processes with our Customized OEM Flow Solutions
For a wide range of applications the thermal mass flow meters and mass flow controllers red-y for gasflowwill bring you a significant optimization and simplification of your processes.
Our R&D has a long standing experience in finding superior solutions for a broad setting of flow applications.
The red-y OEM solutions offer numerous benefits to your applications
Modular Design
The compact and modular design saves space and costs. Applications are scalable easily
Preventing Leaks
The compact and modular design bans the incidence of leaks
Easy Integration
Analog and digital interfaces allow easy integration into existing systems
Fast Exchange of Devices
Thanks to the modular design, a single measuring or control device can be replaced quickly
Swiss Engineering & Quality
Our digital mass flow meters and mass flow controllers are supplied with 3 years warranty as standard. Only high-quality components are used for our OEM solutions.

Our OEM partners and our customers need reliable quality & repeatable performance. As an ISO 9001: 2008 certified company, we can guarantee highest quality standards.