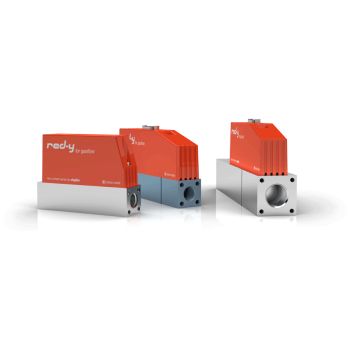 High-precision Thermal Mass Flow Meters & Mass Flow Controllers for Gases
Reliable technology and industry standard interfaces make the red-y smart series thermal mass flow meters (MFM) and mass flow controllers (MFC) particularly suitable for measurement and control in gas delivery systems and plant engineering applications.
Accurate Measurement
The massflow devices offer high accuracy and a wide dynamic range with 2 different instrument versions "Standard" and "Hi-Performance":

Accuracy up to ± 0.3% of full scale + ±0.5% of reading
Turndown ratio 1 : 100 (extended turndown ratio on request)
Analog & Digital
The mass flow meters and controllers of the red-y smart series make use of the latest MEMS technology and have a digital (Modbus RTU) and analog interface as standard.

Profibus interface is available as option (Profibus DP-V0/DP-V1).

A wide range of cable and power supply accessories is available
Operating Status Indication
The measurement and control instruments offer a built-in LED status indication
Safe & Fast Control
The red-y smart controller uses a tightly sealed control valve with a leak rate of less than 1×10-6mbar l/s He. Response times of approx. 150 msec for very fast set point control
get red-y Software
Efficient device management with the free get red-y software:
View flow rate & temperature
Change set points
Select measured gas
Visualization of measured data
Adjusting control parameter
Optional modules get red-y software:
Datalogging
Gasmixing
Adjustment/Calibration
See all available cables and power supply accessories for easy PC connection.
Options
Built-in display
Display includes: Flow rate, totalizer, unit of measure & set point control (controller only)

Multigas
One meter or controller can be used for up to 10 different gases or gas mixtures

Profibus
The instruments are available with Profibus interface: DP-V0 & DP-V1 protocols

Display and Control Device PCU-10
The PCU-10 permits the operation of up to 10 flow meters and controllers with predefined process recipes
» More Information
3-Year Warranty
High-quality components ensure long and trouble-free operation (does not apply to calibration, options and accessories)