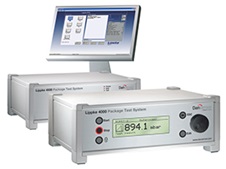 Lippke 4000/4500 for Leak and Seal Strength Testing
Leak and seal strength test systems for flexible and semi rigid packages
Package test system - burst testing of flexible packages
The package test systems Lippke 4000 and Lippke 4500 (PC-controlled) are designed for leakage and seal strength measurement on practically all types of flexible, semi rigid and rigid packages.

The systems provide exact, definable and reproducible test conditions.

The Lippke 4000 is a standalone test system with integrated user interface. It can be used in both production and laboratory environments.

Lippke 4500 is a computerised system which provides extended analysis facilities, storage and documentation of the test results.
The unit is compliant with (click standard below to visit ASTM for more information):

ASTM F1140 - Internal Pressurization Failure Resistance of Unrestrained Packages

ASTM F2054 - Burst Testing of Flexible Package Seals Using Internal Air Pressurization Within Restraining Plates

ASTM F2095 - Pressure Decay Leak Test for Flexible Packages With and Without Restraining Plates

ASTM F2096 - Detecting Gross Leaks in Packaging by Internal Pressurization