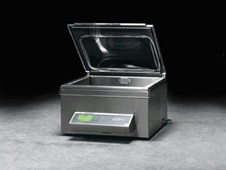 LeakPointer II Seal Integrity Tester
Off-line leak detection of MAP products
Now with optical sensor
The table top LeakPointer II is the smallest of the Dansensor range of on- and off-line leak testers for modified atmosphere packages where CO2 is a part of the gas mix.

The LeakPointer II will fast and easily discover seal integrity problems on all types of modified atmosphere packages with a minimum of 10% CO2 in the gas mix.

The consequences of leaking packages can be very expensive. In most cases avoiding a single product recall can easily justify the investment in a Dansensor leak detection unit.

Benefits of the LeakPointer II seal integrity tester:
Reduced costs from non-destructive testing
Reduced risk of cross contamination (compared to traditional water bath)
Less risk of human error
Detects package leaks
Features of the LeakPointer II seal integrity tester:
Optical sensor
No heating time
Data logging of measurement data
Product programs can be selected via bar code
Fast testing cycle ( 30 sec.)
Easy operation via touch screen
3-year CO2 sensor warranty