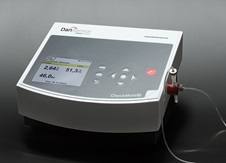 CheckMate 3 Headspace Gas Analyzer
A flexible, fast and accurate benchtop gas analyzer for headspace analysis for quality control of Modified Atmosphere Packaging

If one thing is important in branding it's "repeatability"—being able to deliver the same consumer experience, every single time. How to make sure your product lives up to buyer expectations? Test, test, test – preferably with a reliable headspace analysis instrument, such as CheckMate 3.

CheckMate 3 is a benchtop headspace analysis instrument that allows headspace oxygen analysis or combined oxygen/carbon dioxide analysis of gas-flushed packages to be carried out fast and cost-effectively – a necessity for high-volume brand-name manufacturing. Operators can tell at a glance if the headspace gas composition is within the required levels. It also provides the traceability you need: essential data about each and every package can be stored in the unit itself or transferred either to the CheckMate 3 software or third-party software. And because different products have different testing requirements, the gas analyzer can be adapted to virtually any headspace analysis quality control system, making brand consistency easier than ever to maintain.
CheckMate 3 is the ideal headspace analysis system for headspace oxygen analysis / combined oxygen/carbon dioxide analysis for pharmaceutical products as well as food products that have been packed under a modified atmosphere and where quality control is crucial.
Benefits of CheckMate 3 for headspace analysis
Saves labour time and paperwork due to automatic data logging
Easy transfer of quality-control data to the CheckMate PC software and third-party software
Reliable quality control of gas flushed products
Easy operation – minimum of training required
Headspace analysis features of CheckMate 3
Large easy to read 5" colour display with touch function
Available for either headspace oxygen analysis (O2) or combined headspace oxygen/carbon dioxide (O2/CO2) measurement
Very small headspace analysis sample volume requirement (from 3 ml)
Data transfer via Ethernet, USB and RS232
Flexible configuration of test scheme, e.g. logging of operator name, batch number, product line, etc.
USB connection for external keyboard and bar code scanner
Optional built-in printer