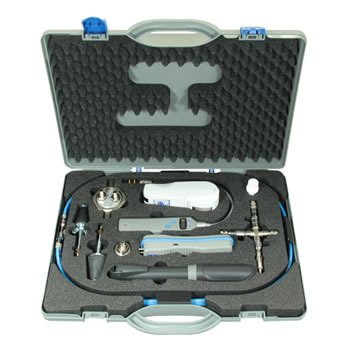 ecom-DPK Pressure Measurement Set
For all gas pipe networks according to TRGI

For pressure measurements at gas heatings and gas burners

Comprehensive accessories as part of delivery scope

Transport case with storage space for optional thermal printer
and ecom-LSG leak detector

Min./Max. function (storage of lowest or highest value)

Freeze function (manual temporary storage of a specific
measurement value)

Units changeable (hPa, cmH2O, mmHg, PSI, H2O, Hg)

Adjustable damping

Changeable parameters for stabilisation time, measurement
time and tests

Data storage and data logging
Suitable for the Following Measurements:
Stress test according to TRGI 2008
Tightness test according to TRGI 2008
Differential pressure measurements at gas heating/gas burners (connection pressure, nozzle pressure, operating and stand-by pressure)
Product Features / Delivery Scope:
Measurement instrument with backlit graphic display
Power supply: 3 one-way batteries AA 1.5 V (Mignon)
Dimensions (L x H x W): ca. 170 x 75 x 35 mm
Weight: approx. 300 g (with batteries)
Free downloadable PC Software "ecom-DP Logger"
Additional accessories for pressure measurements according to TRGI as scope of delivery:

Three connection tubes (1.2 m) with quick-fitting
Cross-piece with safety valve
Compressed air pump for build-up of test pressure in the pipe
Two conic test stopples (1/2"- 3/4" // 3/4" – 1 1/4")
Two high-pressure test stopples (3/8" auf 1/2" // 3/8" to 3/4") with quick-fittings
One-pipe counter cap
Plastics transport case (L x H x W): approx. 400 x 380 x 140 mm
Options (i. a.):
2nd pressure sensor (0-1500 hPa resp. 0-70 hPa) for two parallel pressure measurements
Accessories (i. a.):
Thermal printer (IR)
ecom-LSG for detection of burnable gases
Note: For earning maximization and increased time- & cost-savings, we strongly recommend - especially by recurrent leak rate detections - (in connection with maintenance business) to consider the model ecom-DP3.