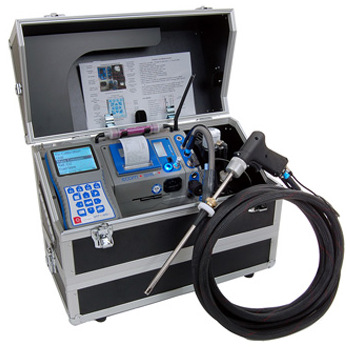 ECOM-J2KN PRO INDUSTRIAL
The ecom-J2KNpro industrial represents the ultimate design in accurate gas analysis and is unsurpassed in the field of premier portable emissions analyzers. If you have a heavy-duty testing schedule, this is the analyzer for you. In addition to holding up to 6 electrochemical sensors, the ecom-J2KNpro industrial supports an NDIR bench to measure CO2, CO up to 63,000ppm, and CH4.
This allows measurement of 9 gases in one compact portable analyzer! When matched with our Advanced DAS Compliance Testing Software, the ecom-J2KNpro industrial offers complete automation of the test procedure so you can get your compliance tests done accurately and efficiently. Advanced features include stack flow velocity, NDIR bench, fresh air bypass switch, heated sensor block for thermal stability, on-board heated line power connection, dual range CO sensors for high accuracy in rich and lean conditions, and the ability to set up automatic test cycling for unattended operation.
STANDARD FEATURES
Wireless Handheld Remote Display
Up to 9 Gas Sensors (6 Electrochemical and 3 NDIR)
Sensor Options: O2, CO, CO High, NO, NO2, SO2, Combustibles, CO2, & Methane
Data Logging with Memory Card
USB Interface
Bluetooth Link
On-Board Printer
15ft Sample Line*
CO Purge Pump to Prevent Oversaturation
Peltier Cooler Sample Conditioner
Peristaltic Pump for Automatic Moisture Removal
Heated Sensor Block for Thermal Stability
Digital Flow Meter Display
Fresh Air Purge Switch
Dual Range CO Sensors
Self Leak Check
Flue Gas, Ambient, & Sensor Temperature Sensors
Averaging Tests
Mass Emission Calculations
CO2, Efficiency, Losses, Excess Air, & O2 Correction Calculations
1ft Inconel Probe*
*Other lengths available. Please ask an ECOM sales associate for details.