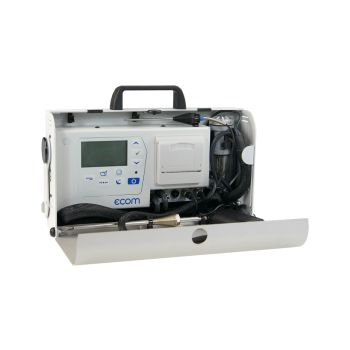 ECOM-CL 2
The ecom-CL 2 – the perfect combination of wall positioned and floor standing instrument. It is an easy to use gas analyzer designed for commercial combustion monitoring in a variety of applications. The ecom-CL 2 is fitted with up to 3 gas sensors, measuring O2, CO & NO, plus Stack and Ambient Temperatures, and Stack Pressure & Draft. The ecom-CL 2 also calculates CO2, Efficiency, Losses, Excess Air and Oxygen correction 0-20%.

The instrument is affixed in its own aluminum carrying case for rugged field use. On board data storage for up to 300 separate readings. Its integrated thermal quick printer allows for on-the-spot print-outs. The on-board computer has 5 pre-programmed fuel types and can store up to 16. The ecom-CL 2 sample conditioning system consists of a high flow pump and radiant gas cooler with condensate trap.

An automatic shut-off activates when the condensate trap reaches its maximum capacity. Another unique feature of the ecom-CL 2 is an Automatic and Manual CO bypass function which protects the CO sensor from over exposure.
STANDARD FEATURES
Up to 3 Electrochemical Sensors
CO Purge Pump to Prevent Oversaturation
Ambient Cooler Sample Conditioner
Flue Gas, Ambient, & Sensor Temperature Sensors
Averaging Tests
CO2, Efficiency, Losses, Excess Air, & O2 Correction Calculations
7ft Standard Sample Line
9 Inch Probe
Sensor Options: O2, CO & NO (NOx Calculation)
Electronically Monitored Condensate Trap