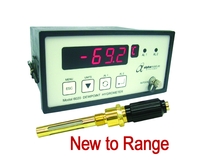 Model 6020 for gas and compressed air
Panel mounting (DIN 43700)
Advanced functionality giving outstanding user friendly operation
A range of sensors covering an overall range between -110°C to +20°C dewpoint (-166°F to +68°F)
Accuracy better than ±2°C dewpoint equivalent
Issued with a Certificate of Calibration traceable to International Humidity Standards
On board pressure dewpoint calculator, including data for Natural Gas
"AutoCal" calibration adjustment to maintain accuracy between laboratory calibrations
Units selectable for °C dp, °F dp, ppm(v), ppm(wt), gm/m³ or lb/MMSCF
Molecular mass pre-loaded for ppm(wt) in common gases, can be entered for other gases
Two fully programmable alarms with relays and annunciator LEDs
Current output linear for selected units
RS485 port for digital output of measured value
Large, easy to read, 5-digit LED display
Front panel IP54
Hot Key functions for rapid access to set alarms and units, can be locked to prevent tamper
Ex certified sensors for Hazardous Area use (via Zener barrier in Safe Area)
Sensor cable length can be up to 1km
Choice of AC or DC powered versions
The Model 6020 is the next level of online dewpoint hygrometers.
Based on the well proven, industry leading, ultra-high capacitance aluminium oxide sensor, the Model 6020 is fully loaded with features and functions to make it a most versatile addition to the Alpha Moisture Systems range of trace moisture dewpoint analysers.
With the combination of advanced display electronics, re-designed software and full specification sensors, the Model 6020 dewpoint hygrometer is an excellent choice for a large range of applications including Natural Gas due to its flexibility and highly configurable menu driven options.