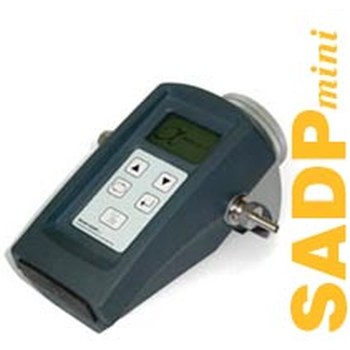 SADPmini Hand Held Dewpoint Meter
The Popular Global Choice in Hand Held Dewpoint Meters.

Ultra Compact, Ultra Portable, Ultra Functional, Easy to use
The Model SADPmini Hand Held Dewpoint Meter has Automatic Calibration as standard and has also on-board logging for the capture and display of up to 16000 data points, with 20 user-definable TAG references.

The Model SADPmini dew-point meter combines the proven reliability and excellence of ultra-high capacitance aluminium oxide dew point sensor technology with state of the art electronics in an ultra portable, compact and lightweight instrument that sets the industry standard in Portable Hand-Held Dew Point Measurements for dry gases.

Key Features
Ranges available between -110ºC to +20ºC (-166ºF to +68ºF) dewpoint
Electronic Auto Calibration
Calculates and adjusts for pressure
Built in security features to prevent tampering
Advanced connectivity features:

RS485 Serial Connection
4-20mA Analogue output
Data Logging & PC download via USB or serial connection

Weighs less than 1.2kgs
Quick and accurate measurement - using our proven "Desiccant Head" technology
High Performance rechargeable battery - Over 270 hours of continuous operation
Robust and ergonomic design
Password protection is provided for maximum security of all data.
This rugged, ergonomically designed housing of the SADPmini dewpoint analyzer incorporates the moisture sensor, signal conditioning circuitry, memory management, 128x64 dot graphics display, 5 key membrane keyboard plus on-board rechargeable lithium-ion battery. This self contained digital unit is user friendly and eliminates the problems experienced by operators and technicians with the bulky size, weight and even analogue readouts associated with the previous generation of traditional dew point meters.
The Model SADPmini dew point meter achieves very rapid, reliable and accurate readings every time and the connectivity of this hand held dew point meter provides a versatile solution. Linear 4-20mA analogue output, Serial RS485 communications and direct USB connection to PC are all available.
The compact and portable dew point meter SADPmini is supplied ready to use and comes with a Certificate of Calibration traceable to National and International Humidity Standards, two metres of PTFE sampling hose, universal battery charger and full easy to follow instruction manual.