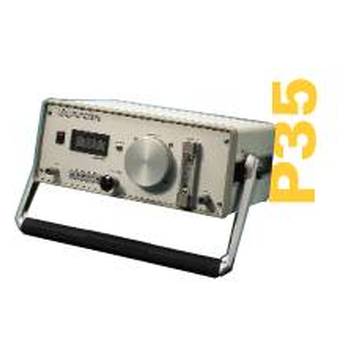 Model P35 - Portable Dew Point Meter
Various Ranges: Overall Range -110ºC to +20ºC Dewpoint
Digital Indication in ºC or ºF
Automatic Calibration
Guaranteed Accuracy ±2ºC Dewpoint
Desiccant Dry-Down Chamber for Rapid Readings
Battery and Mains Power Supply
Sample Flow Control for Inlet Pressure up to 20barg
Sample Flow Indication
Supplied Laboratory Calibrated and Ready for Use
Quick Connect Fittings at Inlet
Alpha Moisture Systems' Model P35 is a fully self contained dewpoint meter which has been designed specifically for use during the assembly, commissioning and service of Sulphur Hexaflouride (SF6) gas insulated switchgear; though its features make it ideal for many other tough on site applications. By incorporating the Desiccant Dry-Down Chamber together with additional components for sample flow control and indication, the user is assured that an accurate reading will be made using a minimal amount of valuable (SF6) gas.
Dew Point readings are taken at atmospheric pressure, though the sampling system incorporated in the instrument will provide for inlet pressures up to 20 barg. Sample inlet and outlet are through high quality stainless steel fittings, and the outlet fitting may be used for sample recovery.
This dew point meter combines battery and mains power operation to save battery life during long periods of use indoors. It is supplied ready for use with batteries installed, calibration certificate traceable to National and International Standards, two metres of stainless steel braided PTFE sampling hose and instruction manual.