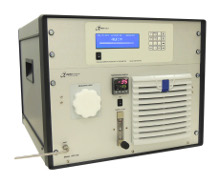 Precision Dew-Point Chilled Mirror Hygrometer
Model CMH-RPC is designed to measure moisture in gases as low as –90ºC (-130ºF) dewpoint (Td). It comprises a three stage peltier cooled mirror hygrometer and integral refrigeration unit.
Model CMH-RPC can display concentration at atmospheric pressure or compensate for pressure variations with input from a pressure transducer.
The Chilled Mirror Hygrometer unit can also be configured to include pressure or temperature measurements and is a primary measurement technique, ideal for laboratories, scientific, research applications and many more.
Key Features:
Quick set up, fast response, stable and reliable.
Accuracy to ± 0.2ºC dewpoint
Three Stage Peltier with additional refrigeration unit
Portable for Bench or Counter use
Front panel access to all main components including chilled mirror cleaning
Programmable Automatic Balance Cycle
Backlit LCD data display
Measurements in ºC or ºF dewpoint. %RH, AT, ppm(v) and pressure also available
Programmable dual alarms
Communication with terminal, printer, or computer
Universal power 110-230 VAC, 50/60Hz
Issued with a certificate of calibration to international standards
2 years manufacturer's warranty