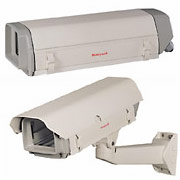 HHC12 Series Housings Medium Environmental Housing
The new HHC12 Series line of environmental housings are stylish and functional camera enclosures, with a design focus of simplifying installations.
The new side entry design of the HHC12 and the hinged mounting tray allows total access to all sides of the camera. A camera and lens can be installed, adjusted, and tested without shifting the position of the housing. After the camera is set up, the lid can be closed and secured with no effect to the camera setup.
The HHC12 housing incorporates a flexible-mounting track, allowing it to fit any mount regardless of the distance between the mounting holes. Optional features include a sunshield, and a factory installed heater and blower.
The HHC12 housing is constructed of die-cast and extruded aluminum with a twotone gray epoxy powder coating, making it attractive, durable, as well as corrosion resistant. IP66 weather and dust proofing is accomplished with durable neoprene gaskets making the housing suitable for all indoor and outdoor applications. HHC12 housings can accommodate 1/2" and 1/3" cameras with fixed and Vari-focal lenses.